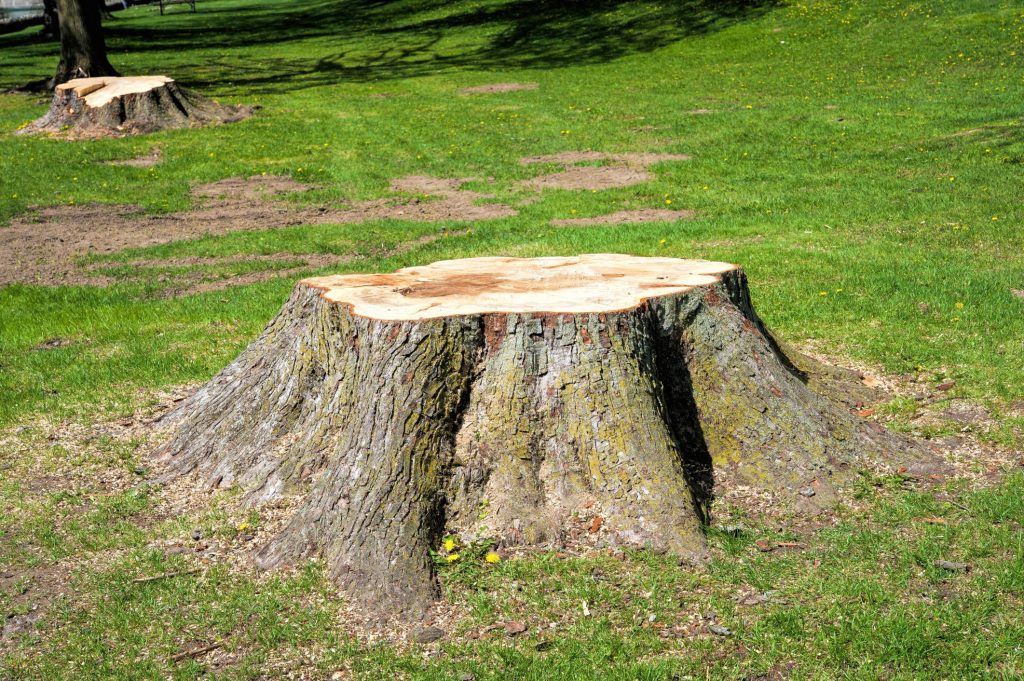 Tree stumps can be left behind when a tree is removed after damage, or comes down in a storm. They're unsightly and can be dangerous, and they're a trip hazard if kids and pets are running around your yard.
Stumps can also attract unwanted pests to your garden - the last thing any homeowner wants. Whether you have a stump left because you have recently had a tree cut down or if you've just moved into a property with an unwanted tree stump in the yard or lawn, we can help with stump grinding services to remove the stump entirely.
Do I really need to have my tree stump removed?
Tree stumps a problem for homeowners for a number of reasons. They take up valuable yard space, and can make an otherwise attractive garden look pretty ugly. They can also pose a trip hazard, and are a great home for pests like ants and termites, which in their turn can do further damage to your yard. They can even get into your home if the stump is not removed entirely.
Tree Service Lake Norman can help to remove even the largest tree stump, using specialist tree stump grinding, to leave your yard or garden pristine again.
What is stump grinding, and how does it work?
A professional stump grinder allows our arborists to grind down the stump to below the natural level of the soil, so there is nothing at all left visible above the surface.
Once the stump has been completely ground down and we are satisfied it can't cause any further problems, we will back fill the hole with soil, wood chip and organic material, so that the area can be used again. And don't worry if the tree stump in your yard is a bit of a beast - our professional equipment makes makes it easy to grind even the largest and trickiest tree stumps.
Our stump grinding service
When you call us to talk about stump grinding services, we will make an arrangement to have a team member visit your property to assess the size and location of the stump. We can then give a no obligation, free quotation for stump grinding.
There may be a few steps we need to take to protect the rest of your yard, and your home, while we carry out stump grinding - for example, we might have to trim plants nearby the stump to offer access to the stump, and rocks or other decorative elements in the soil might need to be removed. This helps to make sure they do not become dislodged and thrown up by the stump grinding equipment.
Ongoing care and advice
You shouldn't have any further problems with the stump, once we have removed it from your yard - however, we are always on hand if you do experience any issues.
And of course, our passionate arborists will also happy to also offer advice about a suitable new tree to put in the space you're clearing, which will work well with the location, soil, and general conditions. Our team at Tree Service Lake Norman is waiting for your call!